Barnes & Noble Promotional Store Fixtures Rollout Project
Beltmann Integrated Logistics successfully completed a store fixture rollout project for 558 Barnes & Noble stores over a 15-day period from start to finish. From receiving the product, to working with local agents, to handling the installation of higher end, more complex wood and glass fixtures, to removing the old fixtures, the entire project was executed in a smooth and efficient manner.
Our Role
The project included several elements, including:
Refresh and addition of toy and game fixtures at 558 stores nationwide.
Six different fixture types, ranging from a large gondola to collectible fixtures topped with glass showcases.
Each store receiving a configuration of two to eight total fixtures, 3074 fixtures in total.
Full white glove service at each store, to include liftgate, inside delivery, unpacking, placement on the sales floor, assembly of the gondola unit (shipped on two pallets), and placement of shelves, hang bars, and hooks on all fixtures.
In store dates of September 9 through September 15.
Ship dates from the manufacturing plant starting August 31 and ending September 12.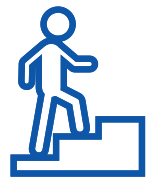 Challenge
Due to the need for specialized services at the store level, a two pronged solution of consolidated truckload transportation to final mile agents for delivery and assembly was utilized.  As the different store configurations took up anywhere from 3.5 to 13 feet of space in a truck, truckloads were built and routed to maximize payloads and minimize the number of trucks needed.
A total of 108 truckloads were shipped to 106 agents for final mile delivery.
Due to substantial volumes in some markets combined with the compressed delivery time frames, multiple providers were used to perform deliveries in those markets.
A team of five project managers was assigned to work with the final mile agents to coordinate delivery schedules and troubleshoot any issues at the stores.
Real Results
Aside from delays in Houston and Florida due to store closings related to hurricanes, all but one store received their fixtures within the desired time frame.
Damage to the fixtures was limited to less than 0.5% of the total.
Read more about retail logistics services provided by Beltmann Integrated Logistics:
Retail Logistics Services (link)
Store Fixture Moving (link)
Store Fixture Rollouts & Installation (link)